App Reviews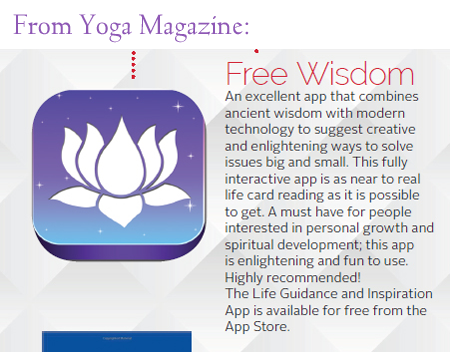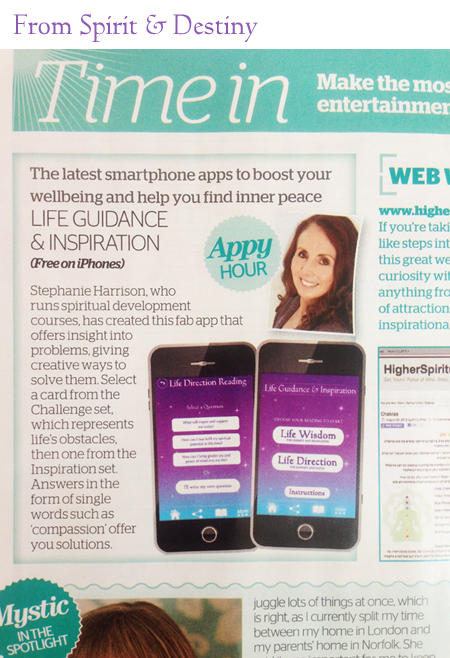 V.2.6.1 Spritual Wisdom by Amit Kainth
Excellent app. Really helps with giving guidance when you need it.
Mar 24, 2017

Inspirational by Rach'73
Such in-depth guidance and spot-on knowledge! Just what I needed to hear
Mar 27, 2016

GB V.2.1.1 Insightful and calming by Kimky


I use the app when I cannot sleep due to thought racing in my head. I find it calming, insightful and gives me perspective on whatever is occupying my mind. I recommend this app. Enjoy.
Feb 09, 2015



US V.2.1.1 Love this! by Tim York
Thank you for creating this ap and for the guidance it has brought me. This was an inspired work.
Feb 01, 2015


US V.2.1.1 It's fun to use by Kathryn Remati
Love sharing it with friends.
Feb 01, 2015



AU V.2.1.1 Excellent app! by MsBBgrooovnmerchnt
A beautiful & insightful app. Do not hesitate to upgrade if you are intrigued by the free download.
Jan 23, 2015



US V.2.1.1 I love it super helpful by Jayzers Edge
My favorite go-to in a pinch. Requires work, challenging. Becoming a better person from the inside out;-)
Jan 22, 2015



US V.2.1.1 Just 1 Request! by Meggs72
I just bought this app & I think it's an amazing tool:) The only issue I'm having is that while using on my iPad, I'm not able to view it horizontally! If there's any way to activate this option, I'd absolutely LOVE IT so much more. The most important thing regards notes & journaling! Typing vertically is really awkward without a case that supports the upright position! Hopefully this may become an option in the near future🐾
Jan 05, 2015



GB V.2.1.1 Truly inspirational and Easy to use App by Lorraine Stokes
This Life Guidance and Inspiration app has helped me in all aspects of my life and somehow seems to know the obstacles I am facing and gives me some really useful tips that have helped me to move forward. I would recommend this to anybody as we all have challenges on a daily level. By stepping back and taking a reading and getting some help with how to move forward is something I would recommend to everyone. I love how I can share my readings on Social media. And it is so user friendly!
Dec 18, 2014



GB Helpful, informative and ticks all the boxes by Talumhood
I'm very happy I came across this app for many reasons. First of all, it's extremely helpful at directing me to where I should look to find the key to inner happiness. Secondly, it's easy to use, straight forward and well made. I know I will get a lot of use out of this, because once in a while we all need a source of guidance and I believe this is the app for it!
Dec 13, 2014



GB Great App by Jonnyblaze2461
Helpful if you trust it.
Nov 30, 2014



GB V.2.1.1 Great fun and love how easy it is to use. by Mulvi_Emm
Good fun (and some home truths too!). Like how easy it is to use.
Oct 04, 2014



GB V.2.1.1 My daily go to app by urbancourier
I have been using this app for well over a year now and it has become an indispensable part of my day. The updated version is fantastic, design feels much more sleek. Shuffle feature is still fab and the introduction of the new special cards is a wonderful addition. As always the readings are spookily accurate and still has the best shuffle feature i have seen on any card app in the app store to date. A definite recommend for 2014.
Sep 02, 2014


GB V.2.1.1 Nice but needs improvement by Auset303
This app has a very nice quality about it and has some very nice touches to assist you in getting into the meditative mood in order to receive a reading, however having updated to the premium version I feel it is slightly let down by the journal facility – I have done readings and made important notes only to return to the saved reading and find they were not there. It seems you are only allowed to save one or two words. Also after having worded my own question for a reading, when returning to it later I noticed that half of it was cut off and when I tried to email it, it didn't even have any of the question I wrote included (it seemed more interested in advertising the app than including the most important thing – the question). If these issues are addressed in an update I would be more than happy to give this app 5* as I feel the insight received from the readings are invaluable.
Jul 31, 2014


US V.2.1.1 Best app by L0tus.lian
I found some helpful guides here. This makes my life more simple and easier. I need it when I feel upset, stress and down. Good one.
Jun 17, 2014


US V.2.1.1 The Best Guidance App Ever ! by Mariee_haase
I dont even know where to begin , but this app understands me like no one else does . If this app was a person Id hug them . They have all the answers to my questions and surprises me . I been dying for a app like this ! This app makes me feel like I have someone when I feel alone . This app isfreaking amazing , awesome , fun , helpful , i would go on but the time Im done Itll be 2046 . BOL. I love this app so much , Id hug the creater .
May 24, 2014


US V.2.1.1 Great tool by Volleyballmom64
Very inspiring app.Encouraging and fun!;)
May 15, 2014

What I needed by Beckerboris
Fantastic app For My journey. Thank you so much, best app in years. Recommended to every one,



US V2.2 Love it! by Frolf
It's been an amazingly insightful spiritual tuning tool. Uncannily accurate useful and aesthetically peaceful and pleasing. Miles away from many commercial stuff. However, with the last update they added a link to buy the book underneath the card reading. It is essentially and ad. It strongly dampens the positive connection with the interface and the integrity of experience they they have obviously worked hard to build. Can you please remove it and put it elsewhere? It is very jarring. I would like you to make money and I recommend it to people I know but I'm less likely to do so with that change. And I use it less now. Not wanting to be petty but feel like I lost a beautiful and wholesome experience of the reading.
Mar 07, 2015


US V2.1.1 Nice by HelliwXD
Amazing app. Lots of motivational and inspirational sayings. Very useful
May 08, 2014



US V2.1.1 THE BEST SPIRITUAL TOOL I HAVE FOUND! by sexiibetch
This app seemingly has a secret view into my life. It's guidance is always right on and amazingly insightful, helpful, practical, and magical. I bought the app on all of my devices and I use it daily. It's quick – to the point – and so necessary for those looking to improve their well being or seek guidance on their path. I'm a champion for this app 😉 and will continue to be for as long as it continues to inspire me to be the amazing person I ALREADY AM! Try it – you won't regret it.
Apr 10, 2014

AU V.2.1.1 Wonderful App by Sunnynoosa


I use it everyday and it's amazing the support I feel I have just knowing its in my pocket. Highly recommend!
Apr 08, 2014

PH V.2.1.1 Life guidance by Aj_rocketeer
Very inspiring quotes. Always makes my day.
Apr 07, 2014



GB V.2.1.1. Lovely app to rebalance in a busy day by Deirdre99
Great app to help you re focus and re group. Helps with re connecting to your path
Mar 25, 2014


GB V.2.1.1 To day is the first day by Owlarlar
Hi this is my first day using this app and I have to say I have fond it so easy to use and at the end I did feel very calm I shall be keeping it and using it regularly.
Mar 12, 2014

Great reading app by Mj0hn50n
Had this recommended to me by a friend and it has been great. Easy to use and a really useful tool.