About the App
Looking for insight? Facing a crisis? Or simply needing support?
Discover self-help strategies to overcome your current life challenges and take control of your life. Use your intuition to find enlightenment and greater happiness.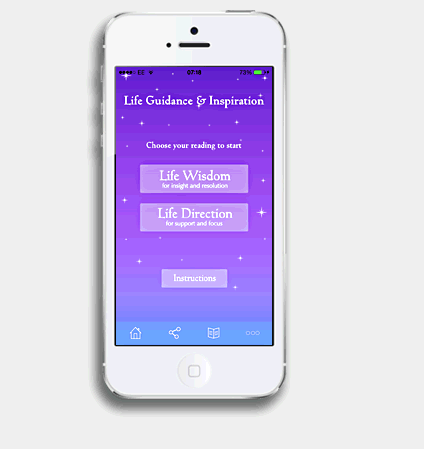 This free iPhone app shows you how to use your intuition to find answers to specific questions and receive daily readings. Get instant insight into the root cause of a problem. Discover optimum self-help strategies to support you.
My award-winning free mobile Life Guidance & Inspiration App has already been downloaded by over 50,000 people worldwide and has received more than 300 Five Star reviews.
You can download it here:
Discover all the features this app offers here.
"A must have …. this app is enlightening and fun to use. Highly recommended!" – Yoga Magazine
"Ancient wisdom formulated for modern times. An inspirational and fresh use of timeless spiritual strategies. This is a great app." — Kat Baker (Astrologer)
"I love it! I use it every day for guidance and inspiration." – Suzy Greaves (Editor of Psychologies Magazine)
"I just want to say how genuinely awesome this app is. I love these kind of card readings, helping us bring awareness to our behaviours and thought patterns. It's absolutely wonderful." — Selina Barker (Head Coach of Play to Win and The 30 Day Challenge)
"The readings are incredibly accurate, it's like carrying a pack of insight cards in my pocket all the time. I have already found this a truly valuable tool, and worth infinitely more times the small cost for the full version!" — Tom Greenfield (Naturopath and Osteopath)
"I love the way the app is so quick and easy to use. It gives clear, no-nonsense answers that I can apply in my daily life. This is a great personal development tool for both myself and my clients." — Ebrina Vogelaar (Personal Trainer & Fitness Coach)
Read more app reviews here.